MeetToMatch Locations
FAQ
When you request a meeting in MeetToMatch, the platform automatically shows you the meeting locations that are available to both you and your meeting partner on that time slot.
Find here more information about the different locations, and how to request a meeting at a different (custom) location during the hours that the GDC Expo floor is not available.
The GDC Expo opening hours are:
Wednesday March 23: 10AM – 6PM
Thursday March 24: 10AM – 6PM
Friday March 25: 10AM – 3PM
I want to switch from online to on site/on site to online meetings
Send us an email if you've decided to come to San Francisco after buying your online ticket, or if you can no longer join on site and will be participating online. We will update your settings and existing meetings.
How do I change a meeting location?
If you have a confirmed meeting and you are the host of that meeting (the one who sent the invite), you will see the change location button in the meeting's details.

The system will show you other available locations at that time. If there are none, you can select the Enter your custom location and recognition details to write down your own location.
Note: if the other person in not on site, you will see video meeting options instead.

If you are the guest, you can ask the host of the meeting over chat to change the location of your meeting.
How can I know if the other person is available for on site meetings?
During the GDC opening hours, if you invite someone who is on site too, you automatically see on site meeting location options.
Outside of the GDC opening hours, you will see the option to Enter your custom location and recognition details.

How do Meeting Points work?
Meeting Points are large MeetToMatch Meeting Point signs located on different booths at the GDC Expo floor. You can find the boothnumber of the Meeting Point your meeting is planned at in your schedule.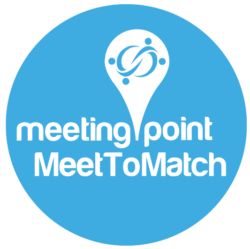 If your meeting is at a Meeting Point, stand close to it so your meeting partner knows where to find you. Once you've located each other, you can find a location to have your meeting at from there.
Can I plan my meetings at my own location?
If you'd like to have all your meetings at the same location, send us an email with your location details. For example a booth at GDC, a rented meeting space, hotel lobby or specific restaurant. If the other person can access this location too, your meetings will be planned here.
Are you offering an offsite meeting location again?
This year, our offsite meeting location is reserved for some exclusive partners. It might be that you have a planned meeting with one of them there, but there won't be any public meeting tables.
Where can I plan meetings outside of the GDC Expo opening hours?
Outside of the GDC opening hours (and on Monday and Tuesday) you cannot make use of the MeetToMatch Meeting Points or booths on the GDC floor. Instead, if the other person is on site too, you can select the Enter your custom location and recognition details option and enter a location, like your hotel lobby.

My country delegation provides meeting rooms/tables, how do I use them?
If you are part of the delegation that offers this, you can make use of meeting tables and/or rooms at GDC. Whether you will get that option in MeetToMatch depends on the following:
It's during the opening hours of the GDC Expo
The other person is also in San Francisco, and has a ticket to GDC/Moscone Hall
There is still a meeting room/table available at that time
The other person does not have a meeting location themselves (for example, some publishers only want to have meetings at their hotel lobby, in which case that prioritizes over the meeting rooms/tables)
If all of this is true, you will see the following option in MeetToMatch:
Automatic meeting room or table reservation. (Best option!)
Current location: <Name of the meeting room/table>

Keep this option selected and the meeting room or table will be automatically assigned to your meeting once it is confirmed.
Any unanswered questions?
Please get in touch, we'll gladly provide you the answer!